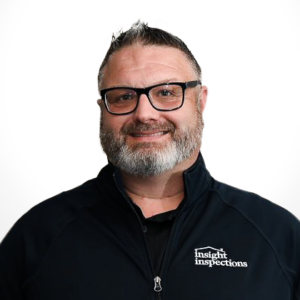 Jeff Barnes
EMAIL : jeff.barnes@insightinspections.com
LICENSES :

| Jurisdiction | Inspection Type | License Number |
| --- | --- | --- |
| Virginia | Home Inspection | 3380001399 |
| Virginia | Radon Inspection | 111344RMP |
| Virginia | Indoor Air Quality (Mold) | NACHI22110204 |
Jeffrey is Team Leader/Senior Inspector who has completed over 2,500 inspections of all types of structures, from historical late 1800s to present-day construction. Jeffrey's extensive experience and communication skills give him the ability to deliver complex information that helps clients can make good decisions. Jeffrey also always is available after inspections for questions about reports or home maintenance. Jeffrey has an eclectic resume from foundation to finish construction to customer service management.
Jeffrey hails originally from California but considers himself a relocated native of Richmond, where he has spent most of his adult life. Jeffrey is a father of two teenagers and enjoys traveling with his family and outdoor adventures. Jeffrey cooks meals for friends and family when he is not snowboarding in the winters, and competing in obstacle course races in the summer.