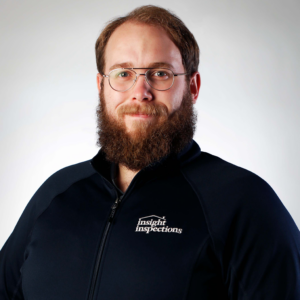 Brandon Rutter
PHONE: (571) 419-7102
EMAIL : brandon.rutter@insightinspections.com
LICENSES : 3380001490/ 33704/ NACHI18110620
Brandon is a Senior Inspector with almost five years of experience and hundreds of inspections across VA/DC/MD. Brandon's experience and on-site demeanor are exceptional for experienced homeowners or first-time homebuyers. Agents who refer Brandon love his approach to teaching clients about their prospective homes.
Brandon is a member of InterNACHI, the country's leading home inspection organization, which requires continuing professional education and training. Brandon's favorite part of his job is to help clients make good buying decisions and learn how to maintain their home after move-in. As a homeowner, Brandon understands the importance of properly maintaining his investment in real estate.
During his time away from inspections, Brandon enjoys traveling and finding exciting, new places to explore. Walking, hiking trails, or fishing are just some of the few ways he likes to spend his time. When he settles down for a quiet evening, Brandon turns to writing short stories or songs to unwind. Brandon is a native Virginian and attended George Mason University.