Paul Cassens
Apply Cassens50! when scheduling or paying for $50 discount on your home inspection.
Meet Paul Cassens, our Regional Manager and Senior Inspector. Paul is a licensed inspector who delivers home, radon, and termite inspections across the greater Baltimore-Washington-Northern VA region.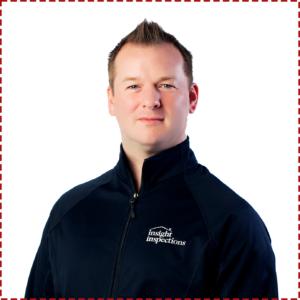 paul.cassens@insightinspections.com
202.306.7726
Paul has delivered thousands of home, radon, and termite inspections. Paul's experience gives clients confidence in their decision making; Paul's personality gives clients assurance and peace of mind during on-site inspections.

As an AHIT and InterNACHI certified home inspector, and having completed his New Residential Structures designation, Paul also performs pre-drywall, final walk-through, and one-year builder warranty inspections, in addition to resale and seller's inspections.

When not performing inspections, Paul is an avid dancer and drummer. As a member of the D.C. Casineros, he has had the opportunity to perform and teach throughout the US and abroad. A native of northern Virginia and graduate of George Mason University, Paul has the privilege of teaching classes at GMU as an adjunct professor.